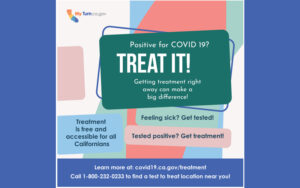 Affected by the COVID-19 Pandemic? These resources can help
This past year has been difficult for many, even more so for people who have lost loved ones, lost their jobs, or had their work hours reduced due to the pandemic. Parent Engagement Academy wants you to know that there are resources now available to help you and your family's health and living situation.
COVID-19 Resources – Free and Confidential:
Vaccination: Sign up to be notified when it's your turn to get vaccinated and there are appointments available in your area at MyTurn.ca.gov or by calling toll-free (833) 422-4255.Operators speak English and Spanish and can provide assistance in 254 languages.
Testing: Find where to get a free COVID-19 test at covid19.CA.gov/get-tested or call (833) 422-4255.
​​​​​​Medi-Nurse Line: California has an advice line that can connect you with a nurse to talk about COVID-19 symptoms and help connect you with local resources. This service is available 24/7, even if you are uninsured. Call (877) 409-9052​​.
 Note: Vaccination and connecting with the advice line is free and private. All Californians are eligible for these services, including immigrants, and using these services will not subject you to the public charge rule.